SHINGO INSTITUTE
Twenty-seven years ago, the Shingo Prize was created at Utah State University as a way to recognize excellent organizations and to set a standard toward which the world may aspire.  Over the years, the prize has naturally evolved into the Shingo Institute and is now recognized as the benchmark for Enterprise Excellence.
Since its founding, the Shingo Institute has expanded its scope from recognition to focus on world-class education and leading edge research.  With each new endeavor, we stay focused on our mission "to create excellence in organizations through the application of universally accepted principles of operational excellence, alignment of management systems and the wise application of improvement techniques."  The lessons we have learned about the elements necessary to create a culture of sustainable excellence have been captured in the Shingo Model.™
SHINGO MODEL™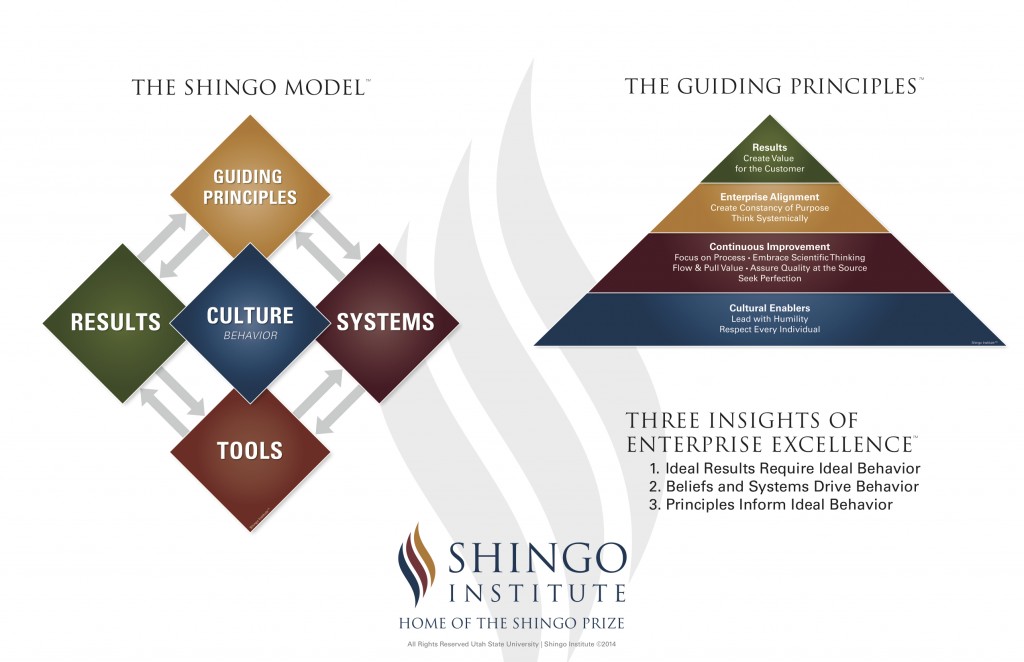 The Shingo Model™ is based on 10 universally accepted Guiding Principles.  Each principle plays a critical role in enabling an organization's culture, designing systems for continuous improvement, aligning principles, behaviors and results across the enterprise, and achieving a sustainable culture of excellence.  In addition, the model details the 3 Insights of Enterprise Excellence™ and how each insight can guide an organization in their journey to cultural maturity.
SHINGO PRIZE
The Shingo Prize is awarded to organizations that demonstrate a culture where principles of operational excellence are deeply embedded into the thinking and behavior of all leaders, managers, and associates.  Performance is measured both in terms of business results and the degree to which business, management and work systems are driving appropriate and ideal behavior at all levels.  Organizations can be awarded at three levels; Shingo Bronze Medallion, Shingo Silver Medallion and the Shingo Prize.  Over the years, SISU Consulting Group has helped numerous organizations achieve recognition at each level.
SHINGO INSTITUTE AND SISU
In 2013, the Shingo Institute formed a collaborative partnership with SISU Consulting Group to help bring the Shingo Model™ to a wider audience and improve the educational programs the institute offers.  As a member of the Board of Governors, a two-time winner of the Prize, and member of the Senior Faculty, Mike Martyn has extensive experience helping organizations across service and manufacturing industries implement the Shingo Model™ and develop sustainable cultures of continuous improvement.
It is our experience that most organizations interested in better understanding how to use the Shingo Model™ to accelerate the rate of transformation or deepen their level of cultural maturity require some help.  SISU offers support in the following areas:
Understanding the Shingo Model™
Developing and Implementing a Roadmap to adopt the Shingo Model™
Coaching Leaders at each Level of the Organization
Designing World-Class Systems that Drive Ideal Behaviors
How to Successfully Challenge for the Shingo Prize
To find out more about how SISU can help you, please contact: Mike Martyn